Did you know that Income Taxes gobble up almost half of your incentive budget? OUCH!
When you award cash and gift cards, Internal Revenue Service rules require you to treat them just like a paycheck. So almost HALF of your budget goes up in smoke to income taxes!  Switch to our legally income tax free scratchoff Star Perks system and stop losing half your budget to income tax! The program is simple, fun, and affordable.

Did you know that 73% of your employees never hear their boss say "Thank You"?
Disenchanted employees can directly impact bottom-line profits. Star Performers can rapidly lose hope and give up trying. Starperks is a fun, easy program to meet your performance goals. You hand out Starperk Cards which recipients redeem for tax-free gifts. Our programs are easy to administer and employees and customers love them.
"I like the Starperk Safety Incentive Program because it gives me a chance to tell my employees what they did RIGHT, instead of what they did wrong." — General Motors Manager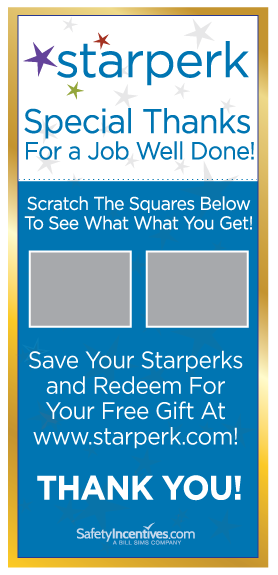 "Your company has done a fantastic job for Cooper Smith.The Starperk program and your help and direction have been instrumental in helping us reduce accidents AND promote a safe working environment." John Johnson, President & COO, Cooper Smith Inc.
How The Starperk Incentive Program Works
When employees (or customers) meet your objectives, award them Starperk Scratchoff game cards. Every card earns points — 1, 5, 10 or 50 points. Every card is a winner! Employees can redeem points immediately at Starperk.com for free a gift. Free Dream Vacations Included Just for Your Company.
Are You Ready for a Dream Vacation?
Every StarPerks program purchase qualifies you to win Deluxe Dream Vacations guaranteed just for your company. Ask us for details!
"After negotiating a change in our union contract the union president told me: 'I'll pay for part of our insurance, but if you try to take those StarPerks away, ll have to put on the boxing gloves!' I knew right then we had a winner with our StarPerk Program."
— Kenny Sawyer, Dorsey Trailers